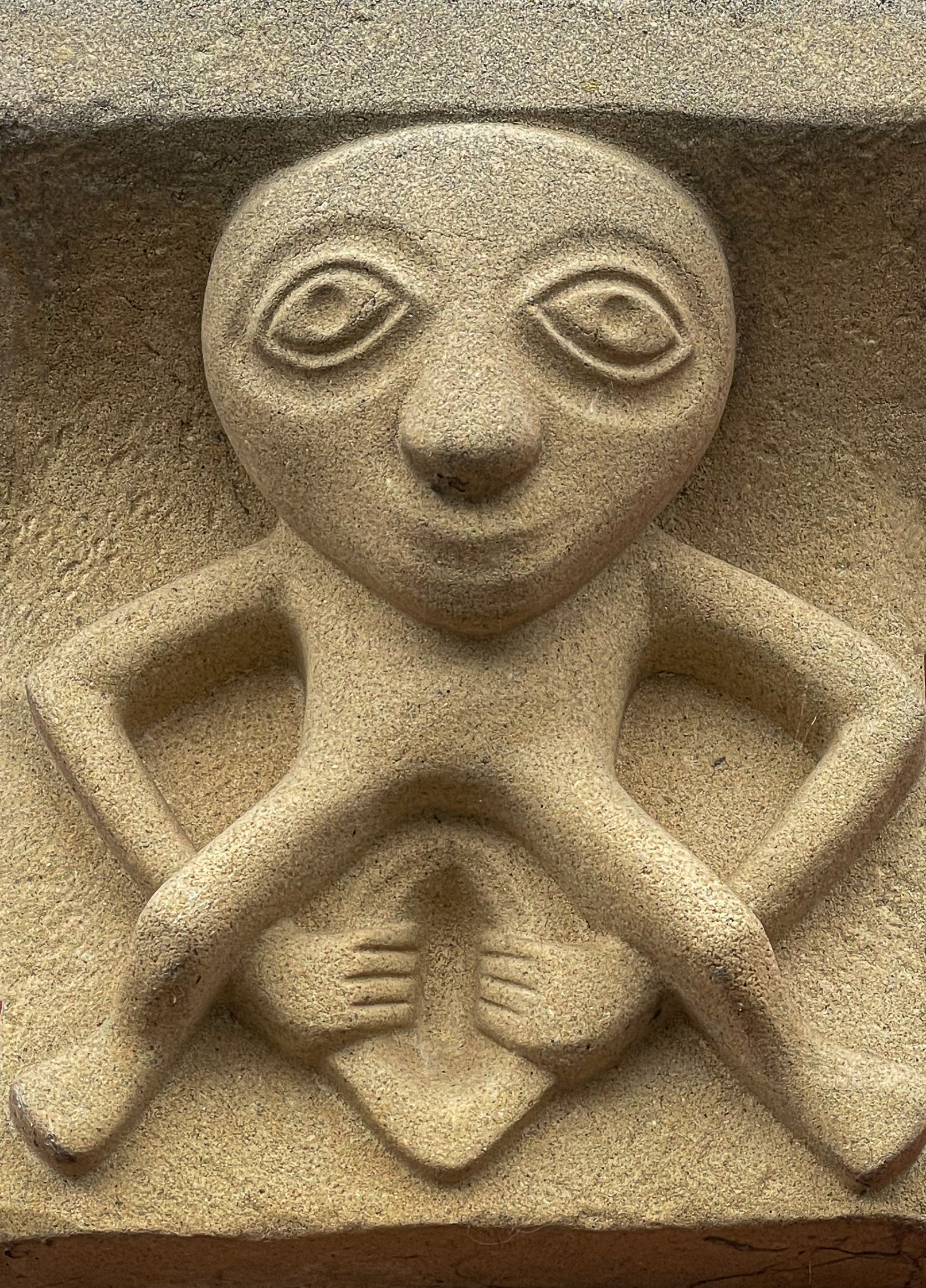 Sheela-na-gig: A stone carving of a woman with exposed and/or exaggerated genitalia, usually found on religious buildings (www.sheelanagig.org).
Usually referred to as a sheela-na-gig, sheela, sile, or any number of names the sheela appears on numerous churches throughout the British Isles. As there is no consensus on her name neither is there agreement on why she sits on the buildings displaying her wares. There are, of course, varied theories but the real reasons are lost in time and we may never know from where she originated nor what her message may be. That said, one of the most popular theories is that she is apotropaic in nature, warding off evil. Another suggests she is a graphic warning against the sins of lust, aimed at the mostly illiterate masses of the medieval period. There are many reasons why each theory has been discarded by some and championed by others, it is not my intention to examine these in this post but for those interested a good starting place would be John Harding's site (www.sheelanagig.org). Likewise, the definition of what constitutes a sheela is also debated and often includes male figures too. I prefer to class these in the umbrella group of exhibitionists and maintain the sheela group as female only though some figures are difficult to determine. The main identifying features are usually accepted as an opening symbolising the vulva and one or more hands either touching it or pointing towards it.
The 'classic' most well-known image of a sheela is probably the one on Kilpeck church in Herefordshire, I have a reproduction of it casting her gaze over my patio (shown above). However, there are many other forms often called sheelas and some of those exist in Yorkshire. I intend to look at a few of those I have visited in the rest of this post.
Our first stop is at a small church in the village of Copgrove. Here we find an enigmatic carving on the south side of the nave. It was originally on an exterior wall of the church and its move inside has been relatively recent and prompted by the damage done to it by the weather. It is quite worn and photographs are best obtained by using a raking light to highlight the features. It has one hand between the legs, near a representation of the vulva, and appears to be holding some form of round object in the other; there's a cross shape in the upper corner. Because of the wear it is impossible to say for sure what this figure represents and what is happening. It is usually accepted as a sheela-na-gig.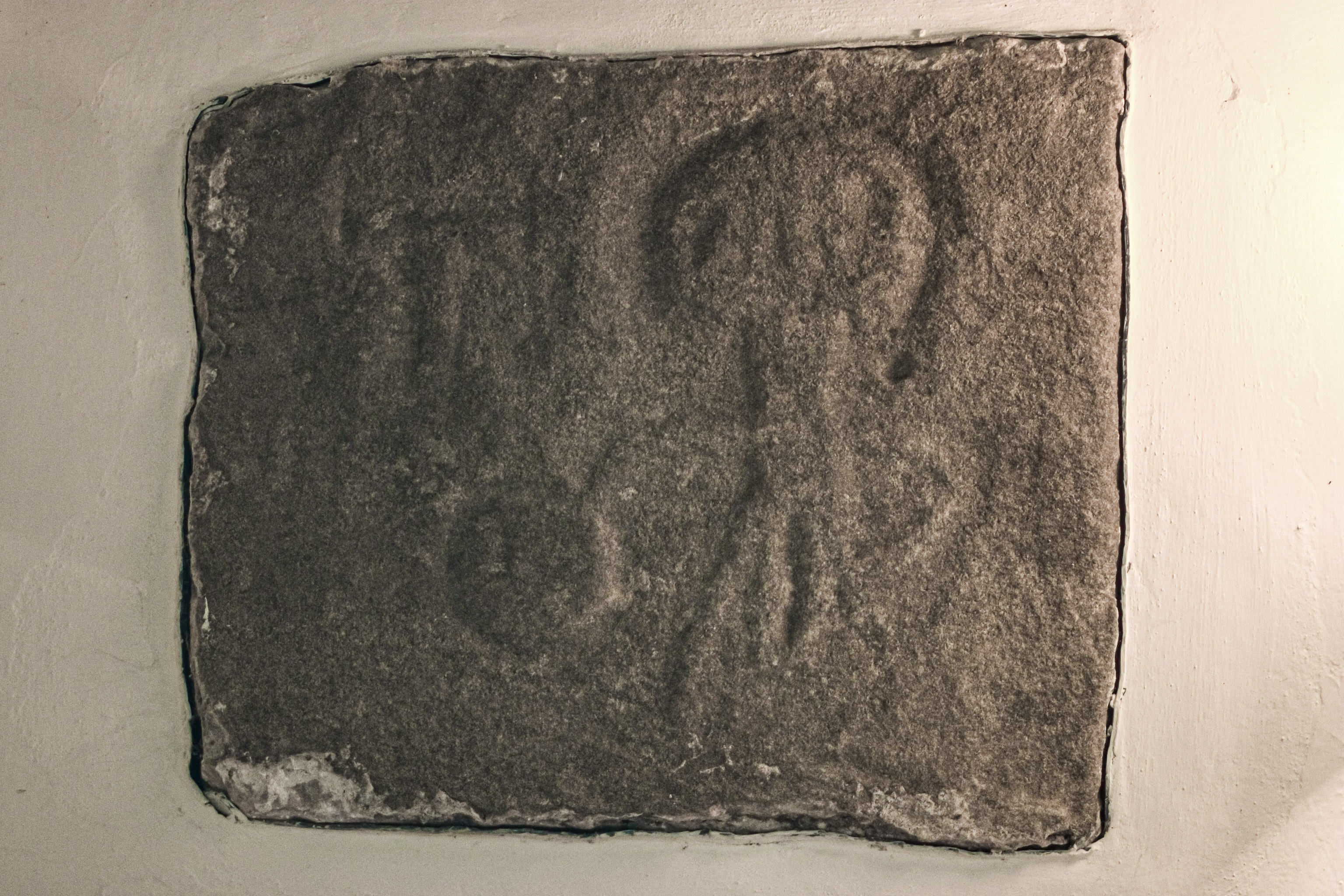 Moving on to Croft-on-Tees there is a figure on the wall by the main door, it has some similarities to Copgrove in that one arm points to the groin area but the other is over the head rather than holding something. There has been some debate as to whether this figure is male or female. The depression which appears to be a vagina may have been caused by the figure's penis being destroyed at some point in the past. There are also suggestions that it may have been a river god overseeing the crossing of the Tees near the church. For the present it is included in the list of sheelas.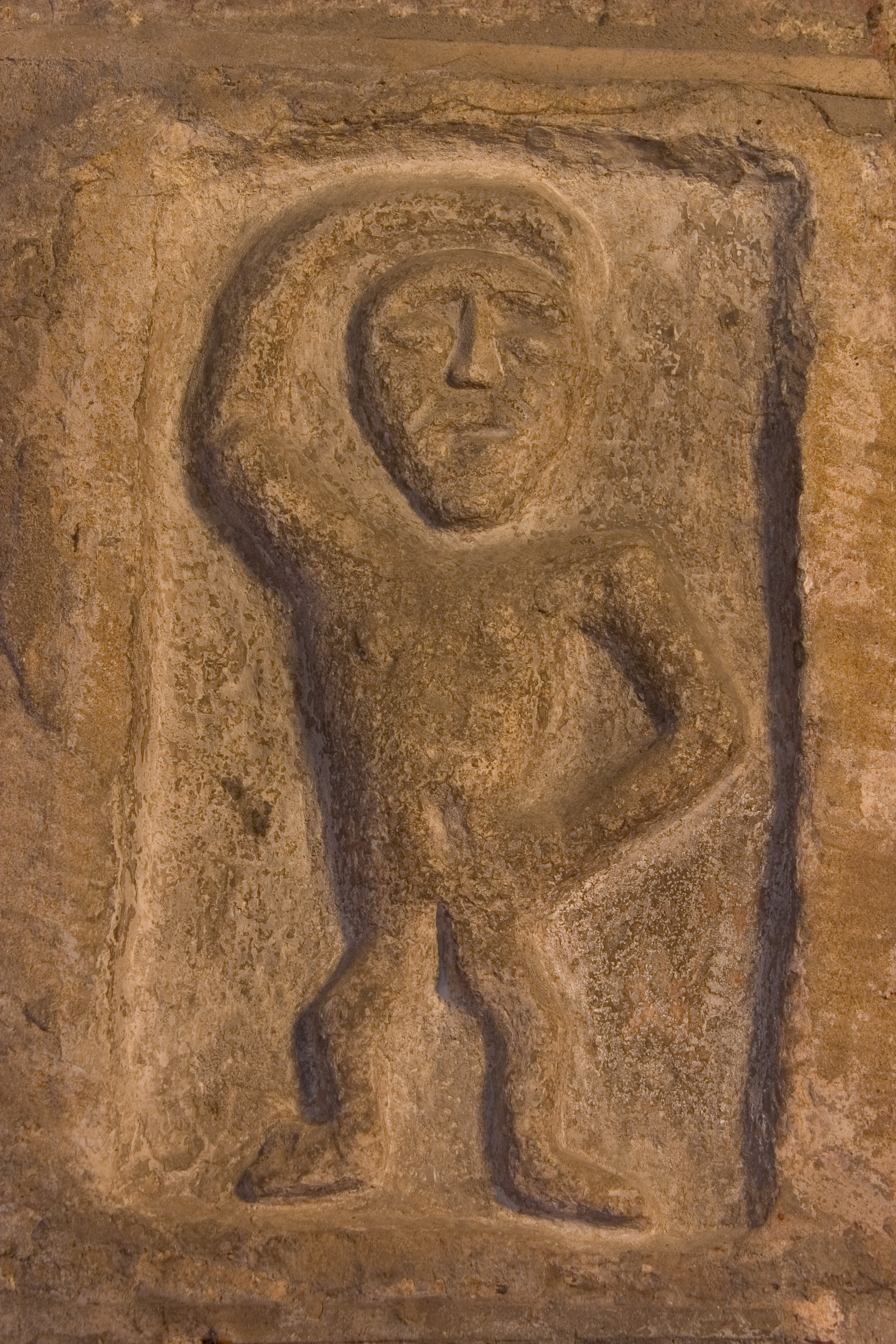 Moving nearer to York we arrive at the wonderful church in Bilton-in-Ainsty. There has probably been a church here since Saxon times though the current one is Norman with Victorian additions and various meddling between. The church has been extended by adding north and south arcades to the original building. This has resulted in the exterior walls becoming interior walls and it is on one of these, in the vestry, that a series or corbels exists – two of them are sheela-na-gigs. Both are quite worn, or damaged, and difficult to see. The first has some features discernible and you can make out arms holding the genitalia. The second has been badly damaged in the lower body area, it was either another sheela or a male exhibitionist. The church is well worth a visit with many carvings and features to discover.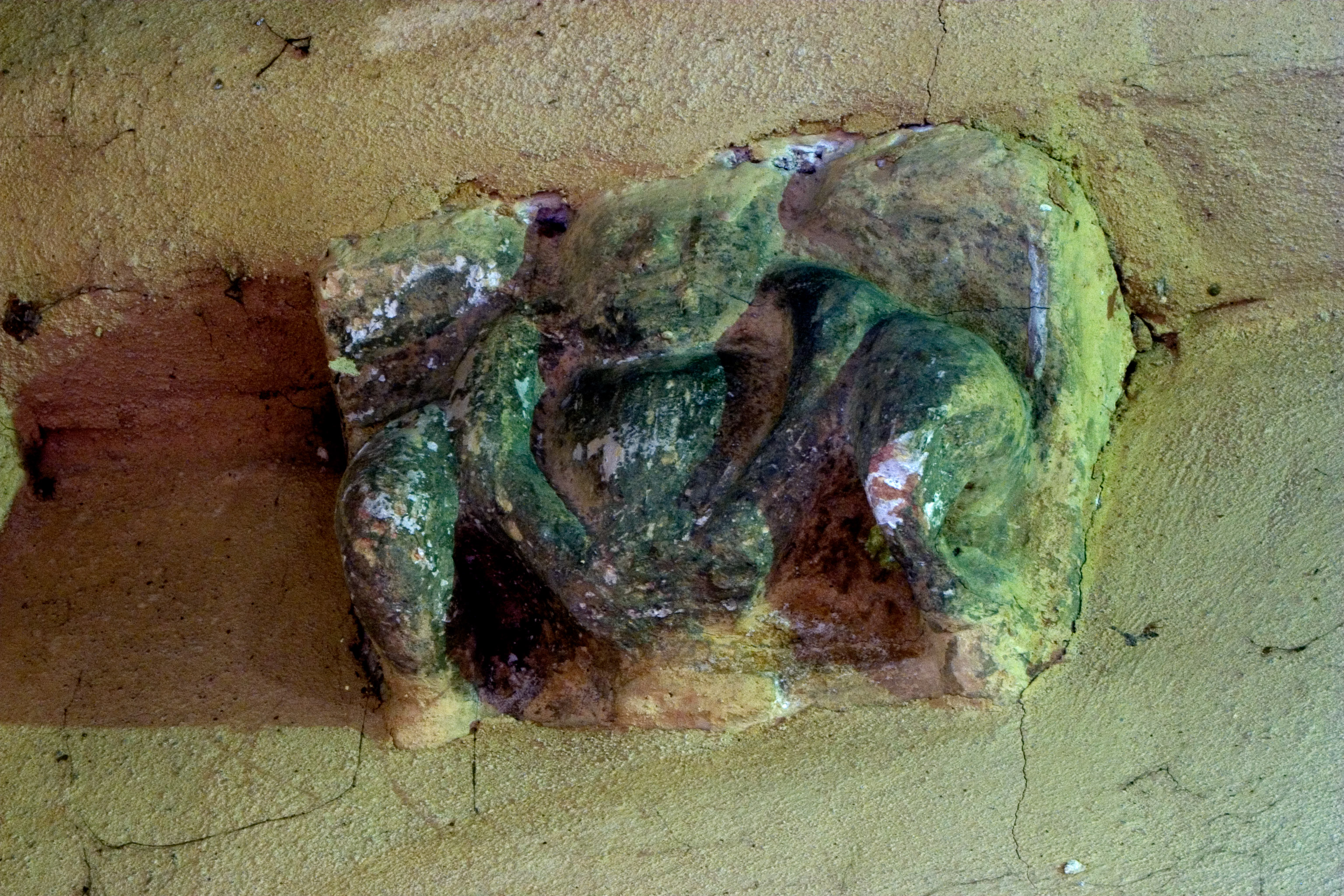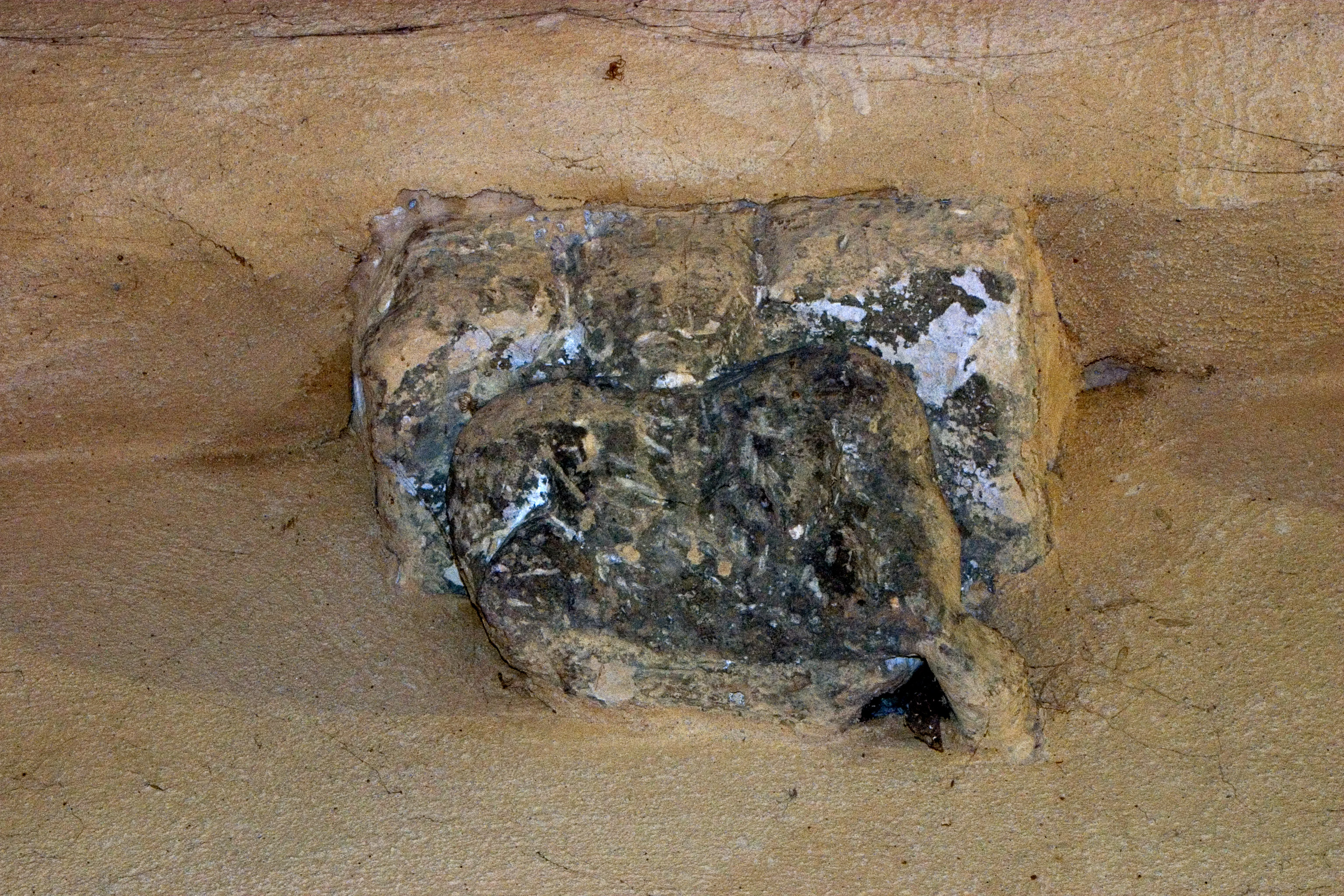 Nearer to home we now come to Malton. On the north exterior wall of the church in the market place is a carving of two people side by side. Each appears to be holding their hand on the other's groin. The right-hand figure clearly has a depression representing the vulva. The left hand figure has a small socket-like hole that could have held a stone penis. The figures are weathered, or damaged, to the extent that it is now impossible to work out the details of the carving. There appears to be something between the two figures and some have suggested it may be an animal but it is hard to see.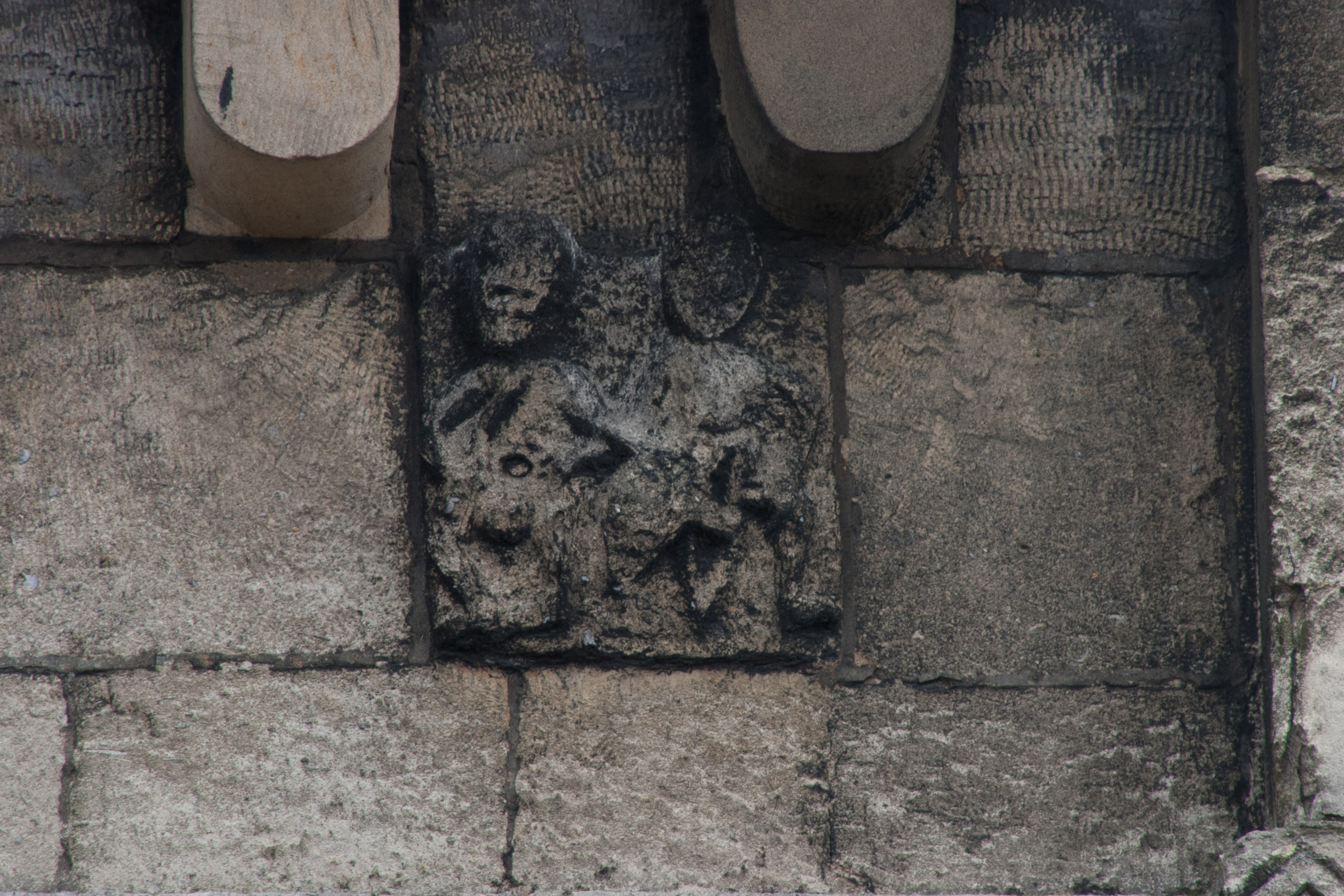 Hop across to the coast and enter Bridlington. In the old town lies the Priory Church of St Mary and within it a sheela-na-gig. This is another that has been moved from its original location, it adorned the arch of a stretch of medieval arcading that was probably part of the cloisters. The whole piece of arcading now sits within the church in the north aisle for all to see. If you do visit it is probably pointless asking one of the guides to point it out to you, I did on my first visit and they denied all knowledge of it. On the reverse side of the arch is quite a nice beard-puller.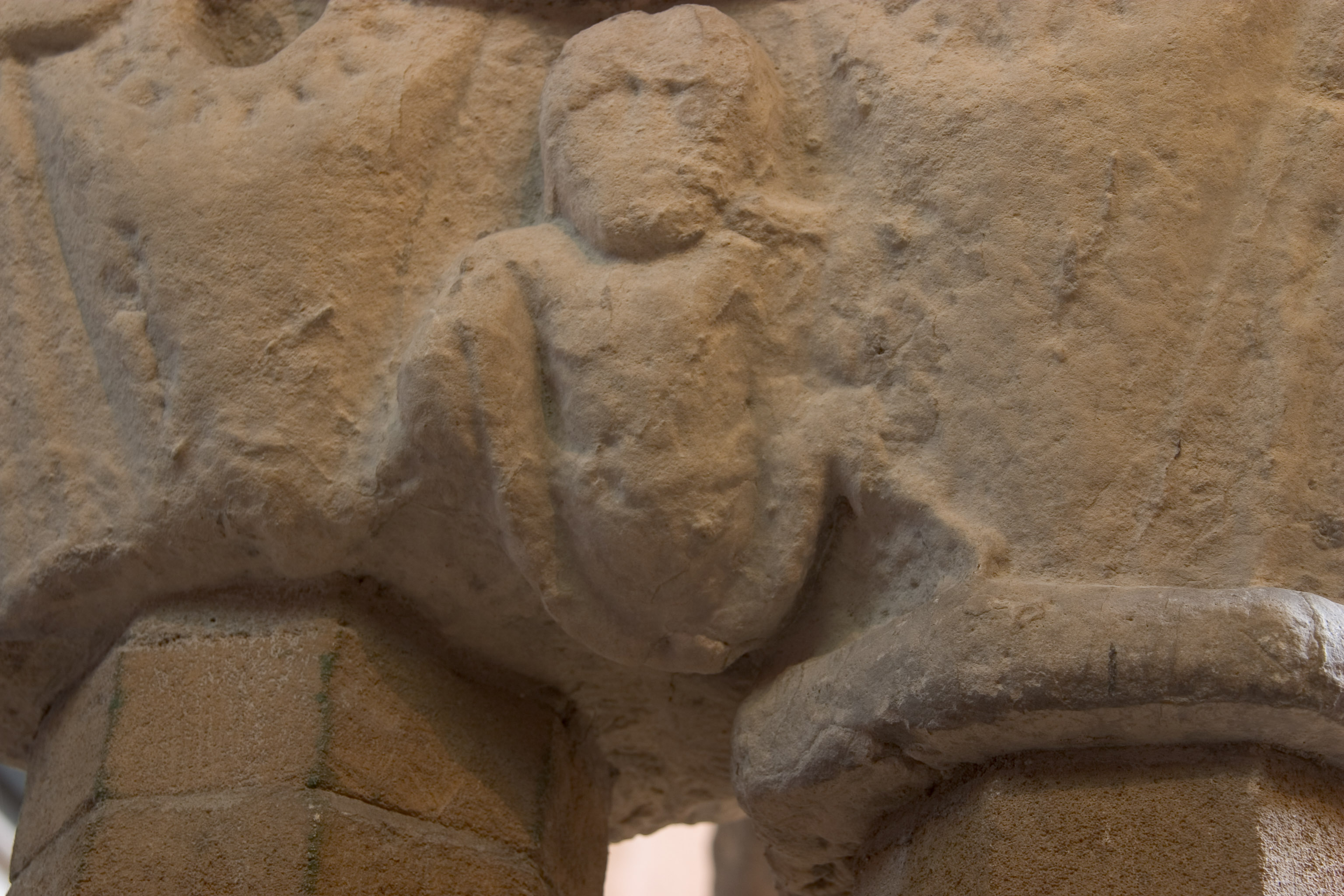 Travel inland a way to Garton-on-the Wolds and view their magnificent church. It has a number of corbels on the exterior walls. most of these are weather-worn or damaged so it becomes difficult to decide exactly what they represent. One of them looks distinctly like it is, or was, a sheela. Its arms are held so they come towards the genital area. There is a cleft on the figure though it may be a bit high up to represent genitalia. It is impossible to tell what the figure originally looked like.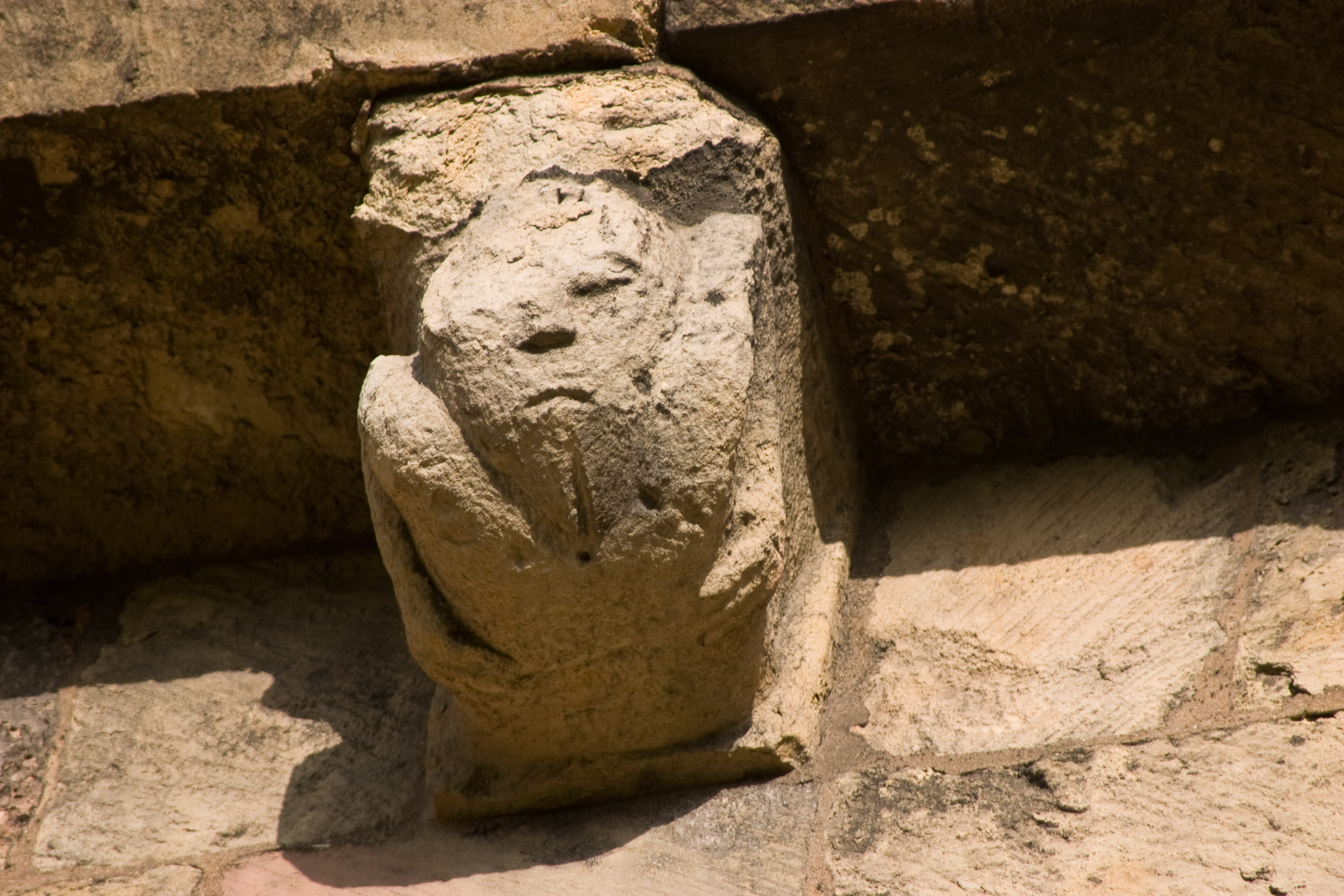 A short trip down the road and you arrive at Kirkburn, another church of interest. On its exterior corbel table on the south wall of the nave there is a figure that may be a sheela It has its arms forward and held in the groin area but I have been unable to see clearly whether there are any details of a vulva hidden there. I must pay a return visit.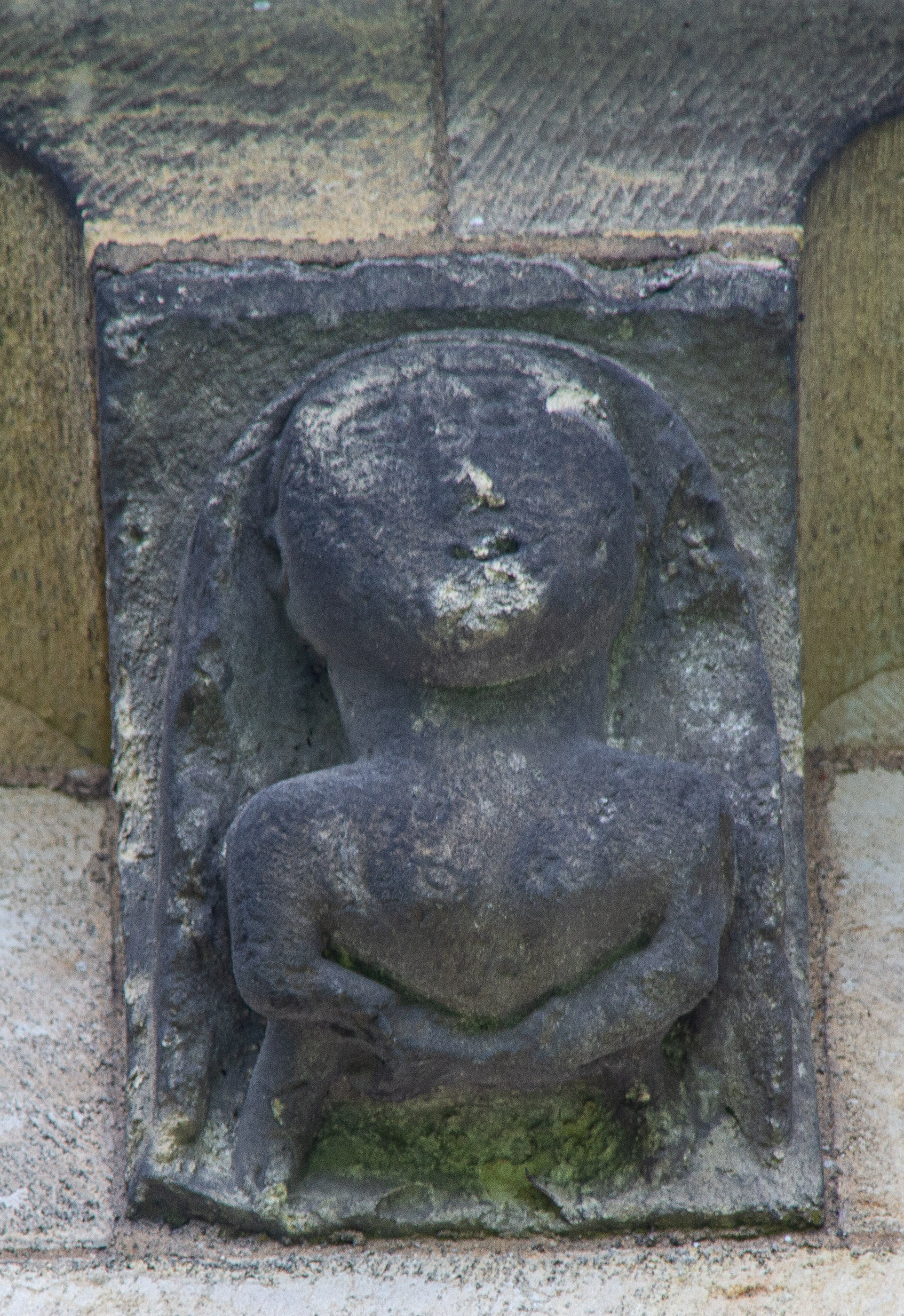 Further north-west we come to North Grimston and another fine church with a collection of corbels. It is thought the corbels were not originally from this church. Two of them are of interest to us in this post, one appears to be a sheela with arms pointing to the groin area. The other, next door, was probably once a male exhibitionist.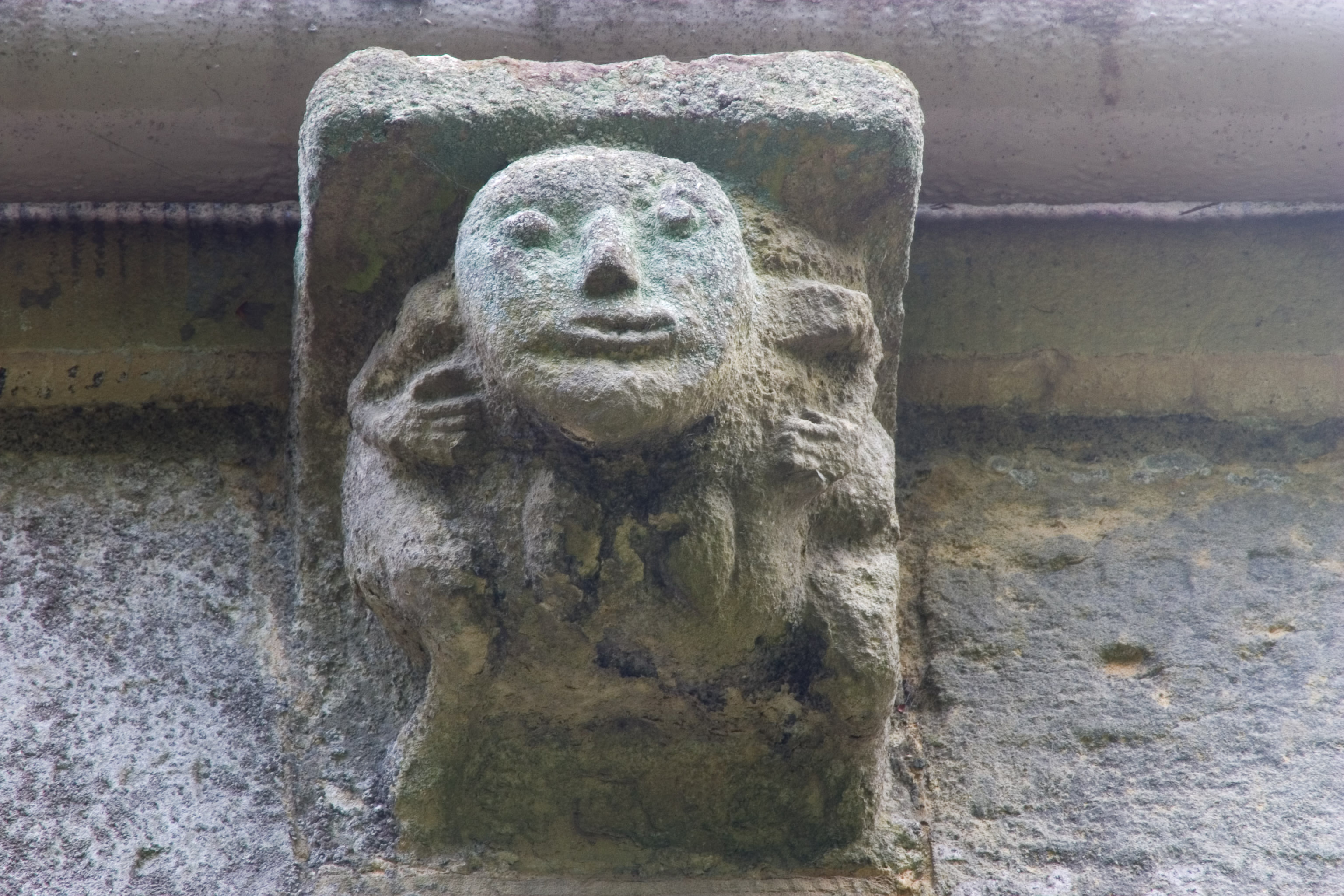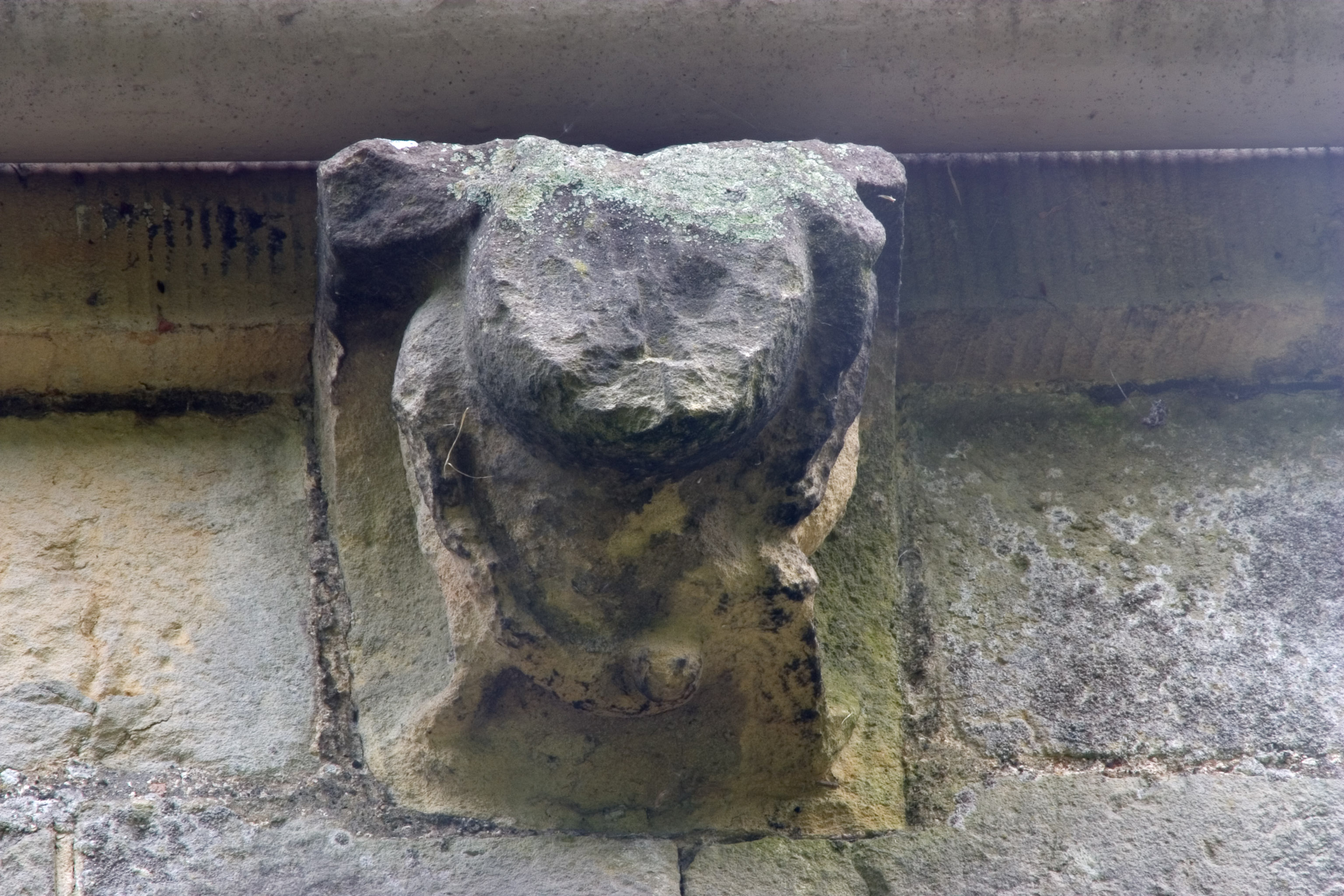 Now we head south to the village of Nunburnholme and its ancient church. There are a number of interesting carvings here but the one we are interested in is on the tower arch at the rear of the church and is quite large. The arch was probably once the chancel arch and has been re-used during later renovations. The figure is of a naked person, again with hands pointing to the groin area, though in this case it is thought to be male.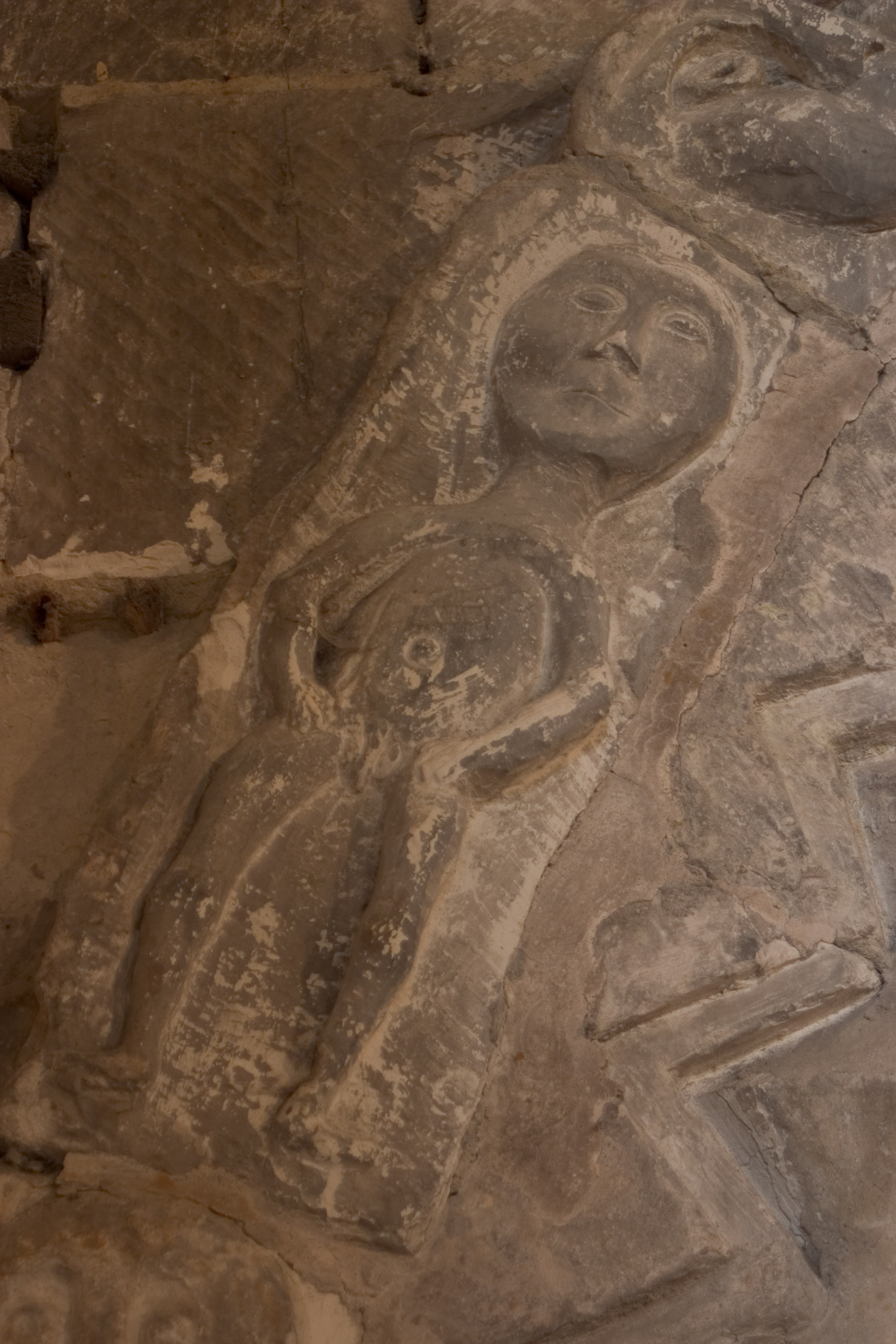 Finally we move a little further north to Bugthorpe. In this church there may be a sheela. At present there is an odd-shaped lump on the chancel arch which is believed to be a sheela that has been covered with many layers of whitewash or plaster. The shape does resemble a sheela but what exactly lies under the covers is unknown. There was supposed to be a plan to remove the whitewash to see what lay beneath. I haven't been to the church for several years so I have no idea if anything has been done.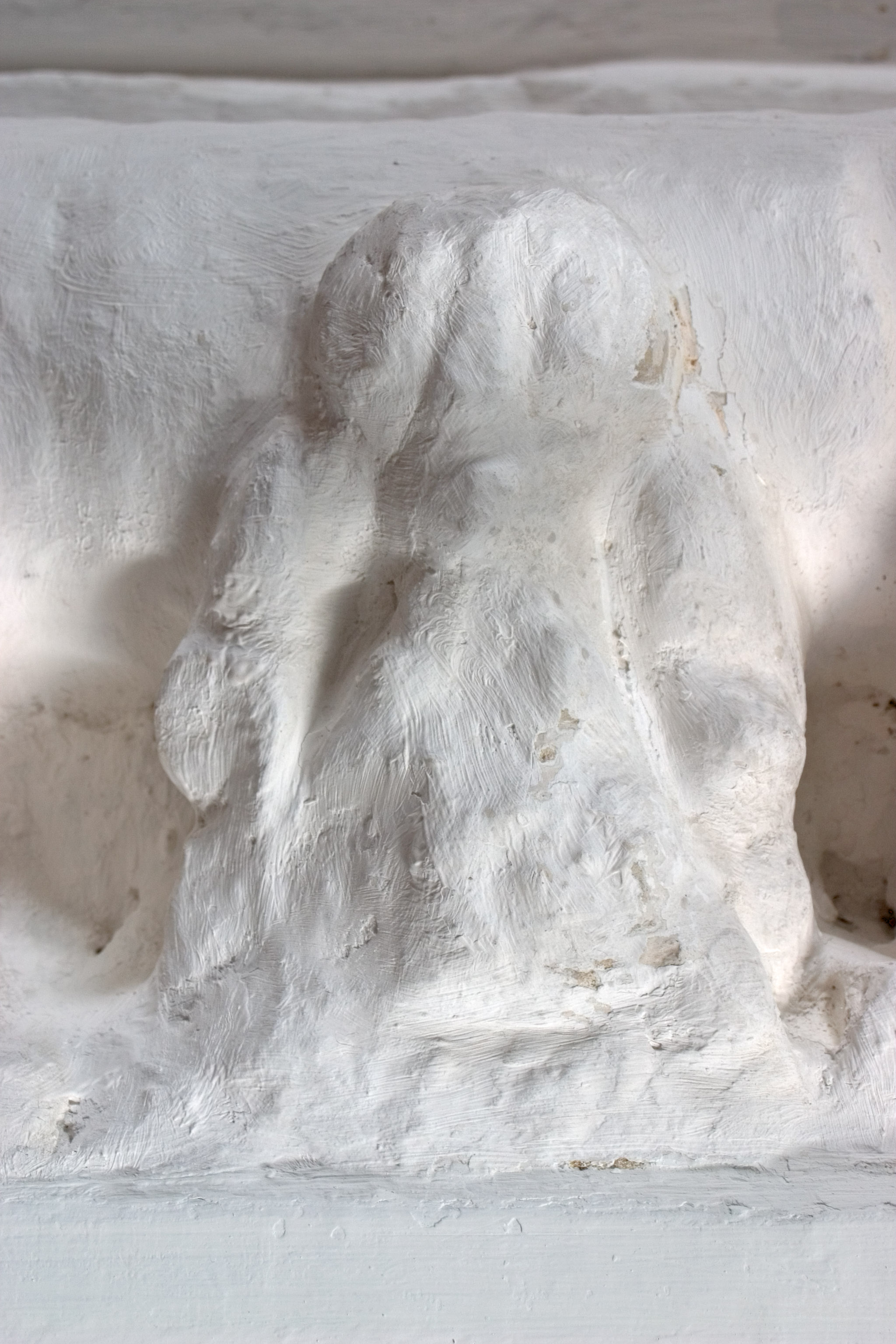 We've had a brief tour of the main exhibitionist figures in Yorkshire that I have visited. There are a few others that are known and probably several more that are hidden or damaged beyond recognition. If you find anymore I would love to hear about them. Happy church-crawling.
Sources
Andersen, Jorgen, 1977, The Witch on the Wall: Medieval Erotic Sculpture in the British Isles
Freitag, Barbara, 2004, Sheela-na-gigs: unravelling an enigma
Kelly, Eamonn P, 1996, Sheela-na-gigs: origins and functions
Roberts, Jack, McMahon, Joanne, 2000, Divine Hag of the Christian Celts: An Illustrated Guide to the Sheela-na-Gigs of Britain and Ireland
Satan in the Groin, www.beyond-the-pale.org.uk
The Sheela Na Gig Project, www.sheelanagig.org
Weir, Anthony, Jerman, James, 1993, Images of Lust: Sexual Carvings on Medieval Churches
All images copyright Pat O'Halloran 2021